So you've conquered "Introduction to Burlesque" and are now beyond "Burlesque for Beginners" – now what? If you're ready to take the next step on your journey to diva-hood, this intermediate-level class is for you! Each class series will focus on a variety of burlesque techniques that take what you learned in Introduction to Burlesque to a whole new level. Students will learn more advanced moves and removes and how to develop their own burlesque style.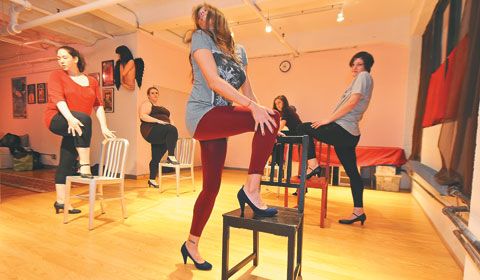 Upcoming Classes
Spellbinding Striptease
Mondays, October 12, 19, 26, 7:30-8:30pm
Instructor: Miss Mina
Cost: $60
REGISTER HERE!
We have a treat for you -- and maybe a few tricks! In this class you'll learn a seductive and seasonal striptease to "I Put a Spell on You" that's perfect for Halloween! Choreographed by Brigitte Bisoux, this burlesque routine will make you feel bewitching!
Students will need a pair of long gloves, a gown with a zipper, a back-fastening bra, and pasties (tassels optional).
Students should have taken Introduction to Burlesque or the equivalent.
Please Note: If you cannot attend the course or a session of the course for which you have registered, you may not transfer or cancel your registration.