So you've conquered "Introduction to Burlesque" and are now beyond "Burlesque for Beginners" – now what? If you're ready to take the next step on your journey to diva-hood, this intermediate-level class is for you! Each class series will focus on a variety of burlesque techniques that take what you learned in Introduction to Burlesque to a whole new level. Students will learn more advanced moves and removes and how to develop their own burlesque style.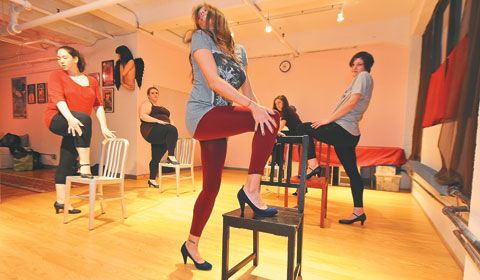 Upcoming Classes
Beautiful Boas Routine  
Sundays, March 5, 12, 19, 26, 6:00-7:00pm   
Instructor: Miss Mina     
Location: Asylum CoLab 
REGISTER NOW!
Nothing says "burlesque" like a  boa! In this class series you'll learn an entire burlesque choreography featuring a boa! There will be boas for loan and some for sale, but feel free to bring your own.
Chair Dance 
Sundays, April 16, 23, 30, 6:00-7:00pm   
Instructor: Devastasia   
Location: Asylum CoLab 
REGISTER NOW!
The chair dance is a favorite of burlesque and cabaret dance. In this course students will be introduced to the chair as dance partner.  You will learn classic moves on and with a chair and how to incorporate them into a burlesque routine.
Please Note: If you cannot attend the course or a session of the course for which you have registered, you may not transfer or cancel your registration.
By registering for classes, students agree to the following:
With any physical activity, there is a risk of injury. Students assume all risk and should consult a physician with any concerns before beginning a dance class.
All material presented in B.A.B.E. courses is for personal, non-commercial use only. All lesson plans, routines, choreography, and combinations taught at B.A.B.E. are the intellectual property of The Boston Academy of Burlesque Education® and may not be used or performed without express permission.
Student images and names may be used for promotional material.