So you've conquered "Introduction to Burlesque" and are now beyond "Burlesque for Beginners" – now what? If you're ready to take the next step on your journey to diva-hood, this intermediate-level class is for you! Each class series will focus on a variety of burlesque techniques that take what you learned in Introduction to Burlesque to a whole new level. Students will learn more advanced moves and removes and how to develop their own burlesque style.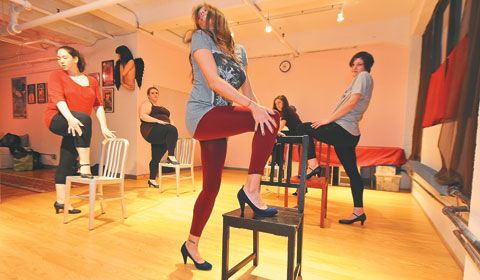 Upcoming Classes
Down & Dirty Floorwork
Sundays, September 10, 17, 24, 6:00-7:00pm   
Instructor: Devastasia     
Location: Tony Williams Dance Center 
Price: $85 for 3 classes
REGISTER NOW!
In Down & Dirty we'll explore burlesque floorwork over three weeks. Students will learn how to get down to the floor and how to get back up again, classic floorwork moves, traveling, and transitions. 
We'll be spending a lot of time on the floor, so please bring a yoga mat for comfort.
Spellbinding Striptease
Mondays, October 9, 16, 23, 30, 8:30-9:30pm   
Instructor: Miss Mina     
Location: Tony Williams Dance Center 
Price: $100 for 4 classes
REGISTER NOW!
We have an October treat for you -- and maybe a few tricks! In this class you'll learn a seductive and seasonal striptease that's perfect for Halloween. This burlesque routine will cast a spell on you! 
Students will need a pair of long gloves, a gown (or other garment) with a zipper, a back fastening bra, and pasties (tassels optional)! 
Please Note: If you cannot attend the course or a session of the course for which you have registered, you may not transfer or cancel your registration.
By registering for classes, students agree to the following:
With any physical activity, there is a risk of injury. Students assume all risk and should consult a physician with any concerns before beginning a dance class.
All material presented in B.A.B.E. courses is for personal, non-commercial use only. All lesson plans, routines, choreography, and combinations taught at B.A.B.E. are the intellectual property of The Boston Academy of Burlesque Education® and may not be used or performed without express permission.
Student images and names may be used for promotional material.