So you've conquered "Introduction to Burlesque" and are now beyond "Burlesque for Beginners" – now what? If you're ready to take the next step on your journey to diva-hood, this intermediate-level class is for you! Each class series will focus on a variety of burlesque techniques that take what you learned in Introduction to Burlesque to a whole new level. Students will learn more advanced moves and removes and how to develop their own burlesque style.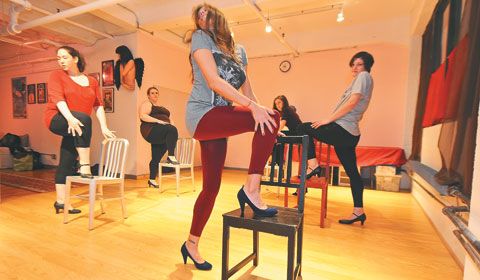 Upcoming Classes
Workshop Trio, taught on Zoom. Each workshop is $25 or $65 for all three!
A Who's Who of Classic Burlesque        
January 10, 7-8:30pm     
Learn about the women who shaped burlesque and influence us today. Watch a multi-media slide show and listen to some great stories.
Caring for Your Costumes      
January 17, 7-8:30pm     
How to keep your costume looking (and smelling) great! We'll cover prevention, maintenance, storage, transport, and cleaning. Bring your questions!   
REGISTER NOW!
Getting Tight: A Guide to Corsetry      
January 24, 7-8:30pm     
This class covers corset history, what to look for in a corset, specialty materials, tips for making your own, how to wear and how to remove.    
REGISTER NOW!
These workshops are open to students at all levels!
Beautiful Boas   
Wednesdays, February 5, 12, 26, 6:00-7:00pm   No class Feb.19  
Instructor: Miss Mina     
Location: Asylum CoLab 
REGISTER NOW!
Nothing says "burlesque" like a  boa! In this class series you'll learn many ways to flaunt your fluffy, feathered friend. Be coy! Be bold! Tease and tempt! There will be boas for loan and some for sale, but feel free to bring your own.
Please Note: If you cannot attend the course or a session of the course for which you have registered, you may not transfer or cancel your registration.
By registering for classes, students agree to the following:
With any physical activity, there is a risk of injury. Students assume all risk and should consult a physician with any concerns before beginning a dance class.
All material presented in B.A.B.E. courses is for personal, non-commercial use only. All lesson plans, routines, choreography, and combinations taught at B.A.B.E. are the intellectual property of The Boston Academy of Burlesque Education® and may not be used or performed without express permission.
Student images and names may be used for promotional material.