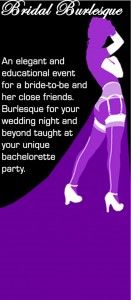 Planning a bridal shower, bachelorette party, birthday bash, or girls' night out? Spice things up by adding a little burlesque lesson to your party!  Every one of our Burlesque Parties is designed around the bride-to-be or birthday girl with the goal of providing a unique and memorable celebration. You're the star of the show and the center of attention, but each of your guests can look forward to a fun and sexy time that she'll never forget!
Our parties are typically 90-minutes long, but can be customized to your perfect length.  Our experienced instructors can also adjust the "heat" of the lesson from tame to tempestuous to suit your needs.  Your guests will learn all of the burlesque essentials: classic moves, clothing removes, boas, tassel twirling — everything you need to know in order to put on a special private performance.  From gloves to grinds, the secrets of the classic stripteaser are revealed to you. Learn to remove clothing in your own personal styles… in a way that's sure to leave your audience begging for more!
We have a minimum of four paid guests at $55.00 per guest, but as long as you meet our minimum, The Guest of Honor is free!
 Our studio can accommodate up to 15 guests.  If you've got a bigger party than that, we can arrange for a larger location for an additional cost.

A Gift That Keeps On Giving
Your Guest of Honor receives a gift package including a beautiful boa, long gloves, and special pasties!
Every guest receives her own set of burlesque pasties. We can even make them in your wedding colors for a small extra fee!
Boas for everyone! All guests receive a feather boa, ideal for teasing.
"

Our instructor was wonderful! We had so much fun and the bride and I are talking about coming back for future lessons."
— Yara
Burly-Q Party Reservation
Essential Reservation Information
Please read this before submitting your reservation request form.

How do I make a reservation?
Fill out the form to the left.  Make sure to include the name of the contact person or organizer, and the name of the Guest of Honor if it's a different person.  When you submit the form, you'll need to pay a $220.00 deposit, which will cover up to five guests. Please click the PayPal button below to pay your deposit.

How far in advance can I reserve?
As far in advance as you want.  We suggest at least 60 days, but we have people who have reserved a year in advance.  The closer you are to your preferred date, the more likely it is we're booked already.  You can always check our calendar to see if we're available.  The more flexibility you have for your date and time, the more likely you are to be able to book a party.  Make sure to include an alternative date, especially if you're trying to book within 30 days.
Can I make my reservation close to the party date?
We will do our best to accommodate all requests, but tight deadlines make that more difficult. Any party booked within 14 days of the requested date will require a $55.00 rush fee.

Can I reschedule or cancel my party?
You can reschedule your party for free once, as long as it's more than 30 days in advance.  If you want to reschedule within 30 calendar days of the party, there's a $55.00 rescheduling fee.
Canceling: if you cancel more than 30 days out, we refund half of your deposit ($110); if you cancel within 30 calendar days of the party, there is no refund.
Can I have more than 15 guests/Will you come to us?
Yes and yes! Both of those things require a little bit of extra communication. If you're interested in reserving a party for more the 15 attendees, we'll need to rent a larger studio, and we pass that cost along to you. If you'd like us to come to your location, we'll need to discuss travel. The best thing to do is just use our contact page to drop us a note. 

Please pay deposit to confirm reservation
 
"

Thank you so much for what I can say every girl raved about as "such a blast"... You made us all feel comfy, but empowered! Not sure you realize how much you were able to draw out of our shyest participants! ...the bride to be left beaming & boasting that she had so much fun & learned so much! ... What you did to help us kick off our fabulous day was SUPERB!"
— Sara